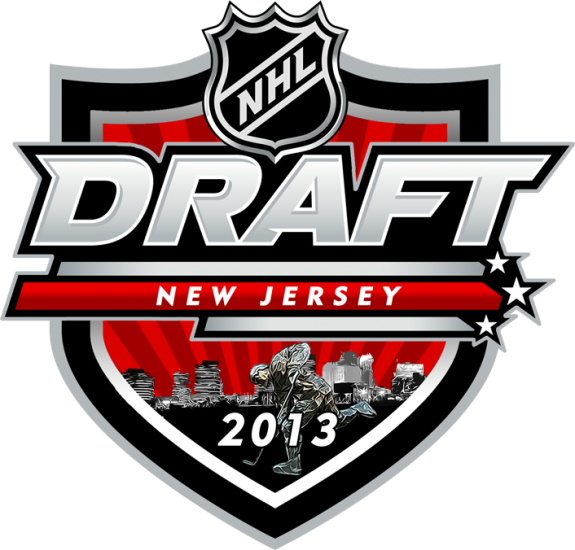 1. Colorado Avalanche - Seth Jones D -
No brainer. Avalanche need help on the backend and Seth Jones is an "ace of spades" defender. Will be playing on their top pairing before too long. Excellent complement to the variety of young forwards they have.
2. Florida Panthers. - Alexander Barkov C
- Panthers are at a crossoards in their development. I feel they should keep building down the middle and take Barkov. Having too many centers has not been an issue for any team. Barkov has similar comparisons to Evgeni Malkin. Perhaps a better two-way game and slightly less electrifying.
3. Tampa Bay Lightning - Nathan MacKinnon C
- I have MacKinnon listed as a C but I feel he will play wing at the NHL, at least to start a la Tyler Seguin. MacKinnon will be a nice replacement for Martin St. Louis once he moves on, feeding Steven Stamkos for all of those deadly one timers.
4. Nashville Predators - Jonathan Drouin LW
- Its been awhile since the Predators have had a dynamic forward who can make offensive plays on his own. Drouin would be a good fit here but it would take a change of philosophy for this to happen. Drouin would be the lighnting rod for the offense in short order.
5. Carolina Hurricanes - Ryan Pulock D
- Hurricanes need Dmen, plain and simple. Best one on the board, in my view is Ryan Pulock. I feel he is a slight downgrade to Seth Jones, but not by much. Pulock will help the Hurricanes powerplay with his cannon shot. Some have Darnell Nurse going here, I hold Pulock in a much higher regard.
6. Calgary Flames - Sean Monahan C
- Flames need centers badly. More importantly they need one that can do a variety of things. Enter Monahan. Monahan will help the Flames re-establish their two way game and strengthen their weak middle.
7. Edmonton Oilers - Curtis Lazar C
- Might be a bit of a reach but exactly the type of player they need. Speedy, two-way center that could play immediately if need be. Lazar would be a great fit on the 2nd line and complement the other flighty forwards on the club. This pick would really establish team speed for the Oilers.
8. Buffalo Sabres - Elias Lindholm C
- A Nicklas Backstrom type center that would complement Grigorenko and Girgensens going forward. This pick would really solidify the center position as a strength going forward for the Sabres.
9. New Jersey Devils - Rasmus Ristolainen D
- Devils need to continue to stockpile the Dmen and Ristolainen is another nice piece to add to the stable. Will bring an all around game and be able to provide wherever necessary. Potential top pairing defender.
10. Dallas Stars - Hunter Shinkaruk LW
- Scoring wingers has been a revolving door for the Stars over the past few seasons. Shinkaruk is a good pickup here as he will score for them for many years to come. As crafty as they get.
11. Philadelphia Flyers - Valeri Nicushkin RW
- A cut away from the usual from the Flyers. Flyers need Dmen badly but I feel there isn't one here that I feel wouldn't be a reach. Nurse is still on the board but the high end potential of a Nicushkin could pay back ten fold. A "bull off the wing" type scorer with real quick hands in tight. In a lot of ways, a Flyers type player.
12. Phoenix Coyotes - Nikita Zadorov D
- Zadorov would be a perfect complement for Oliver Ekman-Larsson heading into the future. Phoenix likes their "big" players and Zadorov is exactly that, big and physical.
13. Winnipeg Jets - Max Domi RW
- Jets are in need of a better supporting cast, especially ones that can score. With Mark Scheifele on the way, its a good time to pickup Max Domi. A stout player with a nose for the net. Impressive awareness and deceptive strength on the rush.
14. Columbus Blue Jackets - Valentin Zykov RW
- Columbus is setup nicely in a variety of positions but one thing they need to continue to improve on is scoring. Zykov's dynamic ability will help them in the long term. May even be the successor for Gaborik as the go-to offensive player.
15. New York Islanders - Fredrik Gauthier C
- Gauthier would be an excellent complement to John Tavares in the long term as the 2nd line C. Big two way center would be a nice find for the Islanders.
16. Buffalo Sabres - Anthony Mantha LW
- Time for the Sabres to potentially start look for the predecessor for Thomas Vanek. Mantha would be a good place to start. Big winger with soft hands. 50 goal player in the QMJHL this season.
17. Ottawa Senators - Alexander Wennberg RW
- Senators continue the tradition of drafting two-way Swedes. Senators need to restock their centers but none available in this area without having to reach. Senators could potantially move Wennberg to center.
18. Detroit Red Wings. - Steve Santini D
- Red Wings need help on the blueline ASAP and Santini is the best prospect that can help them the quickest. Duncan Keith style Dman that has an abundance of hockey sense. Red Wings are in need of offense from defense and Santini will bring that.
19. Columbus Blue Jackets - Darnell Nurse D
- I have questions about Nurse's hockey sense but there is no doubt about his physical abilities. A gamble pick in my view, but if it pans out the Blue Jackets could have an excellent stead of defensemen going forward. Blue Jackets are in a great position to gamble with 3 1st round picks.
20. San Jose Sharks - Ryan Hartman LW
- Sharks have lost many of their agitators over the years but Hartman also fits the new found philosophy of being able to skate. Hartman can also chip in on the offense.
21. Washington Capitals - Ian McCoshen D
- Caps have lost some of the ruggedness from their backend over the years. Caps are blessed with a nice stead of offensive defensemen. McCoshen will help stabilize the physicality for the Caps.
22. Toronto Maple Laefs - Zachary Fucale G
- Leafs could use another set of golatending prospects, as the last round many of them have faltered. Fucale is as "A grade" a goaltending prospect as one could find. Could play in the NHL sooner than some might expect.
23. Vancouver Canucks - Adam Erne RW
- Canucks need bigger wingers and Adam Erne is a good place to keep stockpiling. Erne is a big body that isn't afraid to use it. Nice set of hands as well. Needs to stay motivated.
24. Columbus Blue Jackets - Morgan Klimchuk C
- After this draft the Blue Jackets should have a very nice stead of prospects. The biggest thing now will be to add some versatility to that group. Enter Morgan Klimchuk. Klimchuk is a player that can score but he is also a forward that can play a variety of positions and situations.
25. Calgary Flames - Nicolas Petan C
- If they take Monahan with their first pick, Petan would make for an intriguing 2nd pick. They would have everything they need in those two players as the top 2 pivots. Petan is pure offense with a little bit of grease to his game.
26. Boston Bruins - Josh Morrissey D
- Morrissey is a nice alternative to the trees the Bruins have currently patrolling the blueline. Morrissey can do a bit of everything and is every bit as tough. Could take over the Andrew Ference spot in the future with the potential to become a lot more than that.
27. Montreal Canadians - Bo Horvat C
- Canadians could use some more all around, robust players. Horavat is that player. A strong penalty killer with some scoring touch that can play anywhere in the lineup.
28. Anaheim Ducks - Madison Bowey D
- Anaheim needs to continue to stockpile defensemen. Bowey would give the Ducks a real mobility option. Bowey could very well be the best skater in the draft. Bowey also has an evolving offensive game that is getting better on a game to game basis.
29. Calgary Flames - Kerby Rychal LW
- Rychal is a robust forward that has back to back 40 goal seasons at the junior level. Would be the kick in the pants the Flames offense could use.
30. Chicago Black Hawks - Michael McCarron RW
- Hawks could use a robust power forward and McCarron is exactly that. Bull in a china shop that has an improving offensive game.