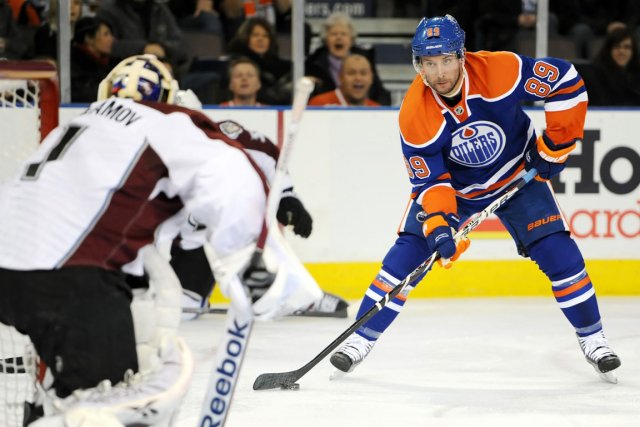 Nothing like a three day break from the Oilers to take your mind off of things. Almost an out of sight, out of mind, type scenario. Welp, the Oilers get back at it tonight against the Avalanche. The Oilers currently sit with a 5-5-3 record, good enough for 11th place in the Western Conference. Only Colorado and Los Angeles have scored less goals than the Oilers in the Western Conference. The Oilers are having a tough time mustering goals. The talent is there, the chemistry and mix of players is not. The Oilers will pull out the blender on the lines in this game and give it a mini-spin. Ralph has a lot of options but the problem lies in that many players are the same pieces, something that has plagued Tom Renney, Pat Quinn and Craig MacTavish before him. The organizaton has been poorly run for quite some time now with no end in sight. The Oilers have a penchant for wild mood swings in philosophy never bringing all the parts to the middle, what you get is a team that is good at something but sorely lacking in many other areas. All the media pundits want this team to succeed something bad, because they represent a "new order" of exciting hockey that everyone wants to see, but the longer it doesn't succeed, the more it will be viewed as a shame. The Oilers are building pieces, but not quite yet at the part of building a team. The more the team building is put off the longer it will take for the Oilers to see playoffs. Getting back to the game, this is a game the Oilers have to have. Losing this game would be crippling in so many ways.
Forwards Oilers
-
The Oilers have more high end talent on paper, its a matter of building lines to get the most out of every piece. Avalanche are dealing with an injury to Landeskog and a Ryan O'Reilly holdout.
Defense Oilers
- Justin Schultz has more points (7) than the entire defensive corps of the Avalanche playing tonight (6).
Goaltending Oilers
-
Devan Dubnyk needs a strong bounce back game. Avalanche goaltending has been lukewarm at best.
Special Teams Oilers
- Oilers powerplay has slipped to 8th, but its a far cry from the 30th powerplay for the Avalanche.
Coaching Avalanche
-
Joe Sacco has settled his team down after a slow start. Interested to see Ralph Krueger's adjustments and if they will matter.
Intangibles Oilers
- Oilers has three days to prepare for this game as Colorado played in Minnesota on Thursday night.
Oilers:
Hall-NugentHopkins-Eberle
Hartikainen-Gagner-Hemsky
Paajarvi-Smyth-Yakupov
Eager-Vandevelde-Petrell
Smid-Petry
N.Schultz-J.Schultz
Fistric-Whitney
Dubnyk
Khabibulin
Avalanche:
McGinn-Duchene-Parenteau
McLeod-Stastny-Hejduk
Palushaj-Mitchell-Kobasew
Borderleau-Olver-Jones
Barrie-Hejda
Hunwick-O'Brien
Zanon-O'Byrne
Varlamov
Giguere
Game Time
- 8 PM MT @ Rexall Place on CBC